.
In 2006 our good friends from Whitefield BC opened their new clubhouse.
Bar lounge area upstairs, bowls house etc downstairs.

new hall and bar
lounge area
New flats are built on the site where the old hall and lounge was.
Whitefield BC

THE WHITEFIELD BOWLING AND RECREATION CLUB
The minutes of the Club record that a Special General Meeting was called on 29 August 1968 to consider a proposal to change the club name from Cambuslang and District Ex Service Menís Club to The Whitefield Bowling and Recreation Club.
The meeting was attended by 23 members, President John Welsh chaired assisted by Mr William Baillie, Hon Secretary.
The President advised those present that it was to facilitate them receiving grants under the 'Physical Training & Recreation Act of 1937'
.
The centenary of the start of the First World War, August 2014, has been marked by various events throughout the country. In recognition of the establishment of Whitefield bowling Club by Ex-Servicemen from that war, (they were called The Cambuslang and District Ex-Servicemen's Club until 1968) South Lanarkshire Council have very kindly funded a commemorative bench and plaque which was unveiled on Wednesday 20th August 2014 by Depute Provost Pam Clearie seen here with President Andy Faulds and local Councillor Walter Brogan.


Commemorative plaque

Commemorative bench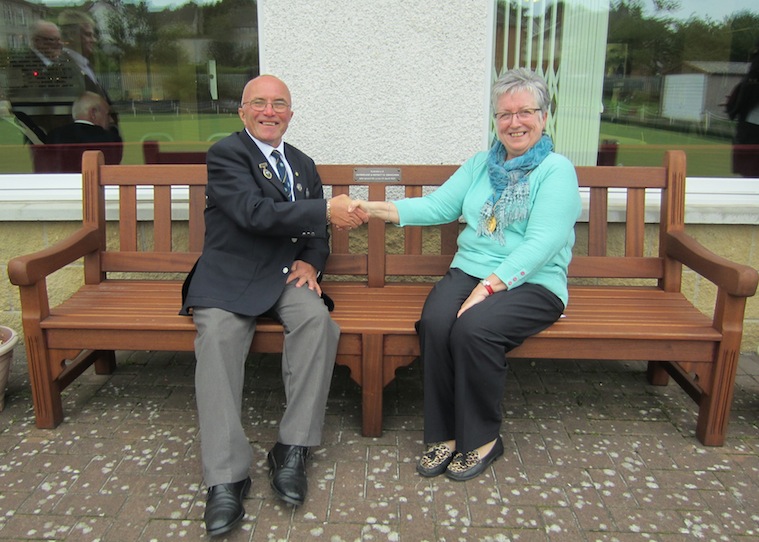 Five members of Cambuslang Bowling Club, who are listed on the war memorial went on to become founding members of the Ex Service Men's Club, including their first President Gregor Harkness.
Cambuslang BC representatives President Scott Hunter, Past President Alex Latimer & Past President Will McArthur attended the event which was held in the Whitefield Club at 20 Croft Road, Cambuslang. Club treasurer Gerry Boyd has done a lot of research into the history of the club and he is to be congratulated in spearheading this commemoration.

Photographs Will.McArthur, webmaister